Because I am asked ALL THE TIME!!! Even more so than how much (if you can believe that!).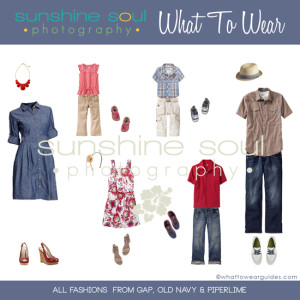 The biggest thing I am always saying to clients is that it is important to coordinate, not necessarily match. Lay out your clothing options on the bed and play with what looks good and what you are going to want to remember for always. No pressure, right? 😉 Avoid loud patterns and remember your background when selecting outfits. You don't want to wear a color that will blend in too much with your background.
It is also important to be comfortable and BE YOURSELF, because it will come out in the photos if you're not!
Remember the details…
– nails and toes (I love to take detail shots of holding hands, etc.)
– shoes (leave the crocs at home and perhaps you might not want to wear those 4 inch heels if we're going to the beach?)
Please take a look at the website for more information on my ideas on what to wear under the about tab/what to wear.
And, always feel free to send me a pic from your phone of your outfits if you have any questions. Yes, I do this all the time!