Whoo-hoo!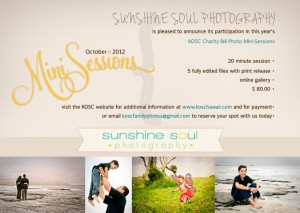 This year I am departing from the traditional mini-sessions and teaming with the KOSC to provide sessions where a huge chunk goes to charity. Wow! I am honored to be a part of this and excited to be able to provide a service that can really make a difference in our local community.
More info can be found at www.koschawaii.com or email koscfamilyphotos@gmail.com.
Looking forward to an exciting season!